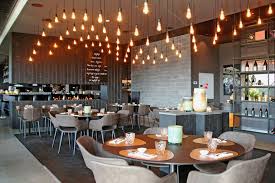 This big restaurant is located on top of a furniture shop next to the N14, opened its doors in 2016. It has a big parking lot in front of the building.
There is an elevator leading to the restaurant which is quite convenient. This is also a hotspot for mums with kids during the week.
Stylish
The interior looks very stylish and cosy. There are beautiful vases and other ornaments on display. The open kitchen is also nice to see. The restaurant is really big, and fully booked when we came here. There were plenty families with kids. I will get back on that later.
During the warmer days you can sit on the big terrace in front of the restaurant.
Tasty
I went for the carpaccio and deer as a main. Generally the starters came with a few leaves of vegetables. What you order is what you get. It's not beautifully decorated, but it tastes pretty good and the portions are quite big. I hardly ever go to restaurants where I feel quite full already after the main course. Especially as it was the second course. My husband's scallops were very good.
Child friendly
The staff was very friendly. We had brought our own food as Elodie is a very picky eater. They didn't mind at all. Also, the table was a terrible mess.
Big indoor playground
At the front of the restaurant there is a big playground for children. No shoes allowed inside the room. There are climbing, sliding and building facilities. Elodie was one of the younger ones around, and the bigger kids were playing quite rough. So we kept an eye on her.
There was a high chair for Elodie, and there was also a diaper change area. As we change Elodie while she is standing, we were able to change her and put her pyjamas on in the big corridor in front of the toilets. This gave us enough privacy.
This playground is perfect, because you can stay at the restaurant longer as the kids don't get bored that easily, while you can enjoy your evening out. That's a win-situation!
Food: 7-
Child friendly: 10
Rooftop
Liersebaan 123b, 2240 Zandhoven, België
+32 479 90 14 11