This was the first time we went to Full Moon Garden in Amsterdam, normally we go to Full Moon City in The Hague (also in the Netherlands). The restaurant in Amsterdam hasn't been open for so long.
It's much smaller and located on the Leidseplein. I have never really noticed before that there was the smell of weed everywhere at the Leidseplein.
We had to take the stairs to the restaurant which is on the first floor. I didn't see an elevator. Elodie didn't want to be carried upstairs but wanted to walk herself. I don't really like her walking really high stairs even though she holds my hand. I am a little afraid she will tumble over because she is too confident in her stair walking skills.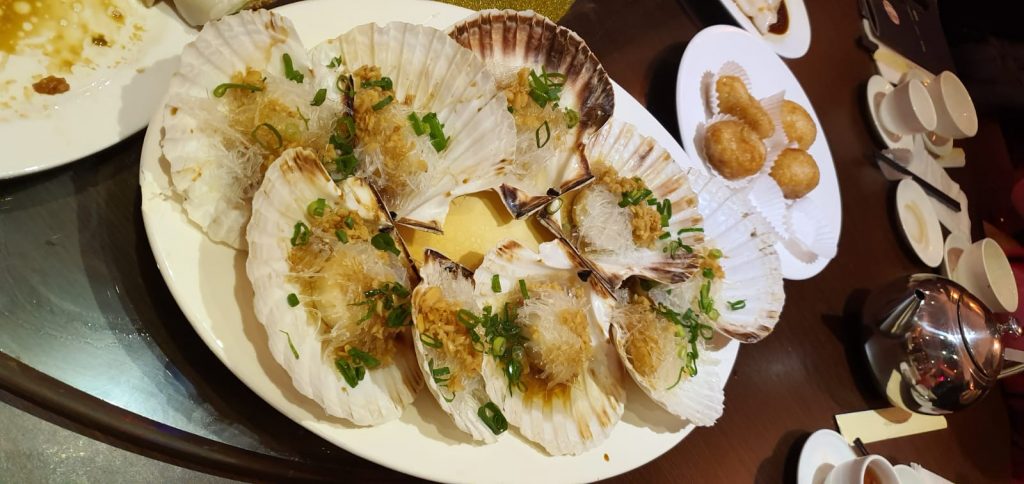 Smaller
The restaurant itself is much smaller than the one in The Hague and it doesn't have the pretty red wedding seating area. They made quite a few mistakes with regard to the food that was ordered, such as wrong dishes, and forgetting dishes. The good thing is that even in the evening it is possible to order dim sum, which most Chinese restaurants don't do.
Miscommunication
When the reservation was made, and we asked for the lobster they said that we didn't have to reserve it because it was always available. While there, they told us that they ran out. Instead, we ordered the suckling pig, which I actually like more when going out for dinner because my dad makes a pretty mean lobster himself. In the end they didn't charge the suckling pig and also another dish. There were a few errors but they actually made up for it, which was a nice surprise.
Good food
The food was very tasty, and well-prepared, especially their fried dishes. Elodie actually ate a bit of jelly fish, cow intestines, and black sesame ice cream. After dinner, they gave us sliced oranges, I think Elodie ate half of what was served.
Nice staff
The personnel was very sweet for Elodie. She bumped her head while walking around, and she was crying. One of the waiters gave her a piece of chocolate to sooth her. Another time she wanted to be picked up by a waiter, and he actually took the time for her and picked her up.
They were very careful while walking around her with food or drinks. Elodie was sitting in the Ikea high chair, which was left pretty dirty as she is not the cleanest eater. In the ladies room there is a changing mat.
Maybe there was some miscommunication about the food because we were with a bigger group with many different dishes. But the food that was served was good. The Chinese restaurants in Amsterdam and The Hague are so much better than elsewhere in the Netherlands.
Food: 7
Child friendly: 7.5
Full Moon Garden (Dim Sum & Cantonese cuisine)
Leidsestraat 95, 1017 NZ Amsterdam
+3120 238 2546