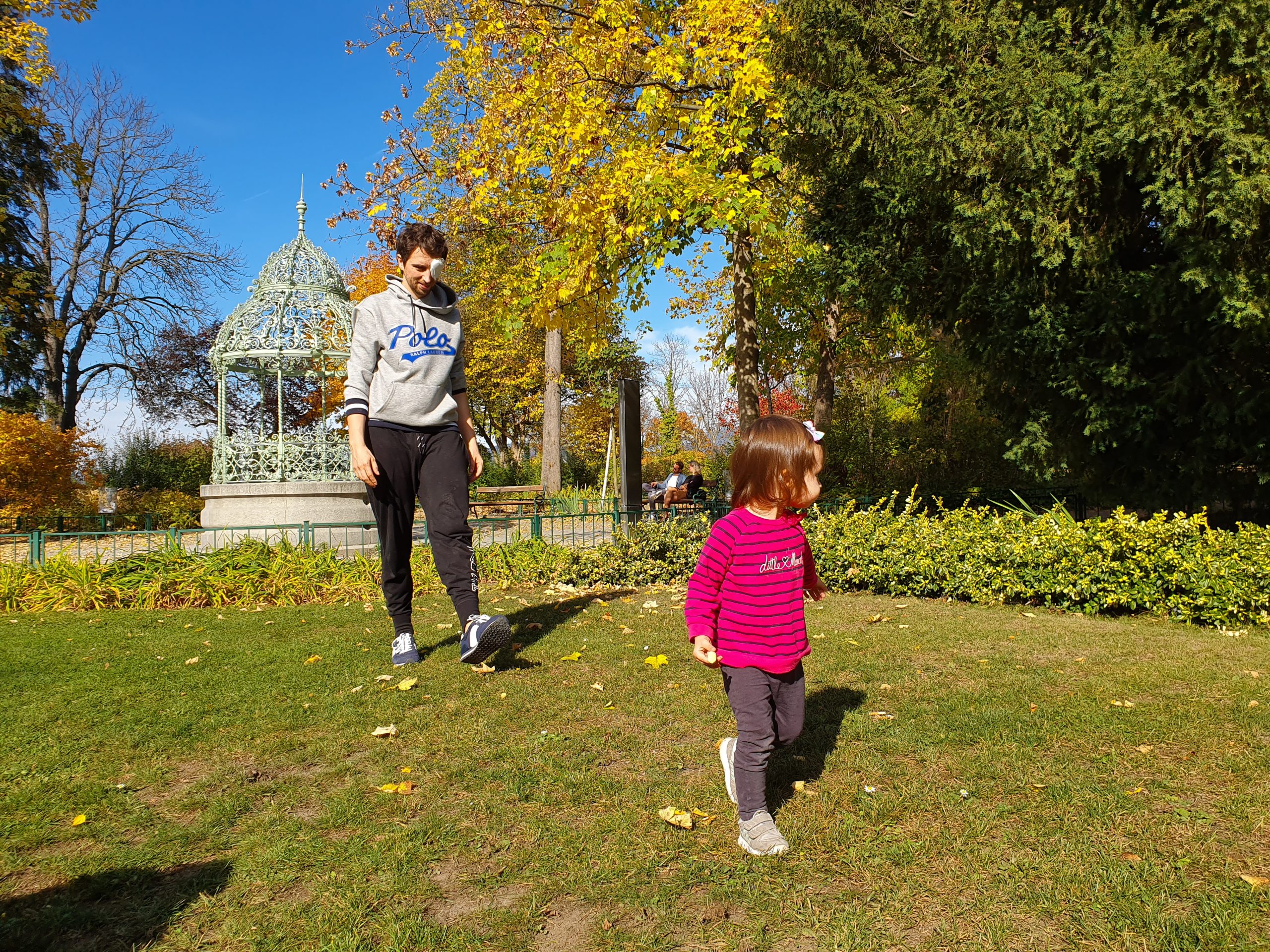 NoTube Eating school day 7
My husband went to the Augenklinik last night. Elodie accidentally scratched his eye. It hurt too much, yet he didn't want to go to the hospital and wanted to sleep if off. Men.

I wrote a message in the NoTube ticket system and Doctor Marguerite answered immediately, and told us to go the Augenklinik. He got an eye cream and pads for his eye erosion. Today it's still very painful and sensitive.
This morning we went to the castle and to Schlossberg. Unfortunately, Elodie didn't want to eat at home. When we arrived in the park we had a bit to eat on the bench, but she wasn't interested. We ate the sachertarte from Martin Auer. It was really delicious. We have noticed that when feeding the ducks in the park she sometimes takes a bite as well. But by the time we were at the castle she wanted a wine gum, when that was finished she started to eat a bit of chips.

Then we went to Schlossberg by taking the elevator. We kept offering food after she finished what she had in her hand in a gentle way, by showing the snack box. Most of the time she took something out of the box. We let her choose and pick.
Up at Schlossberg we later had a picknick with Mirka and her family. They are from the Czech Republic. Their daughter was born the same day as Elodie but one year later. Elodie tried the food and milk they offered her. It was nice being with them. They have a lovely 9-year old son who likes to play and entertain Elodie. When going down the mountain my husband took the 140 metre long slide in less than 40 seconds. Pretty awesome.

Elodie slept for almost 3 hours during her nap. She was grumpy or annoyed more easily, and more whining.

On the way, and at the restaurant she ate a few chips, a cherry candy and 1 slice of baguette, the soft part. For dinner, we went to El Gaucho for the third time. Their steaks and tartare are so good! They also serve very quickly which is perfect when having a toddler around who can't sit still for a very long period of time. We ordered extra pasta to take home for later this week.

Today we really saw that she snacks on her own. So we assume she wants to live, and her body probably needed a bit of potassium as she ate a bit of banana as well. We feel more assured that she wants to live. We didn't have this feeling when she was hospitalized a few months ago. Little steps.