Eetkamer à l'infintiste – takeaway
This lovely restaurant in Antwerp, Belgium, is definitely Michelin Star worthy, and we love it. It has been a while we have eaten here, the waiting list is rather long. Today my parents in law brought us a takeaway meal from Eetkamer à l'infintiste.
Take away our delivery meals from fine dining restaurants are a great way to still enjoy good food during these Corona times. Also, you are helping the restaurants who need to adapt and be flexible to survive while they cannot work at full capacity.
The food was packed in bamboo boxes which look clean and nice. I like this over the plastic boxes which some other restaurants use.
The starter contained a lot of vegetables and chorizo. It was tasty, but too many vegetables for me. My husband loved it, and Elodie tried a bit as well. Elodie actually tried quite a lot from this meal.
The second course was amazing! It had foie gras, crab, 3 sorts of melons. I normally don't like fruits in my dishes but this was prefect. I actually ate my main course and then finished with this one.
The main course was white fish, which had to be prepared in the oven, bouillabaisse sauce with vegetables and rouille. My husband prepared it perfectly. I was very proud of him! Elodie ate quite a bit of the bouillabaisse sauce, she ate the vegetables as well and really liked it. We hardly ever see her like something that much.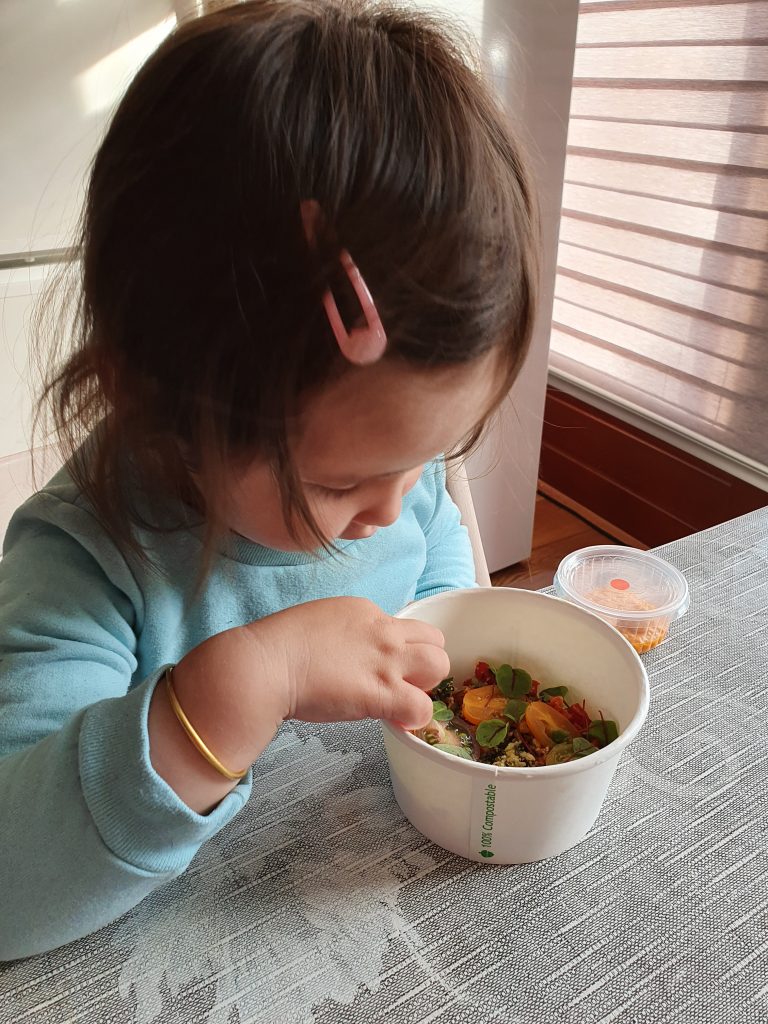 The dessert was a pana cotta with fruit, marshmallows and mint and cocos topping. This was the real deal and my husband loved it. I personally like the 'fake' adjusted Dutch taste panna cotta more. Also, I don't like marshmallows, if you would eat it as a whole it was perfect together. The right amount of texture and flavours.
All in all this was a wonderful meal. It looked really nice, which is quite difficult for a takeaway meal. Very high skilled cooking. We already decided that we should make a reservation for later this year when the Corona virus risk will hopefully be reduced even more.
They went out of their way to deliver the meal to Zoersel, which is not in their normal range. One of the employees was going to visit her parents in Zoersel and brought the meal to my parents-in-law.
Food: 8-
Service: 8.5
Eetkamer À L'infintiste
Kasteelpleinstraat 6, 2000 Antwerpen, Belgium
+32 3 237 43 37